6 signs you might have a leak in your house
Has your water bill gone up? Most of the time with a leak in your house the water bill will go up. An average American with a household leak can waste up to 90 gallons of water everyday!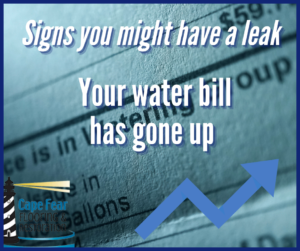 2. Have you maybe noticed mold growing on your ceiling or on your floors? This might happen because of a leak somewhere in your home. Why is mold there you might ask. Well mold will appear from the build up of water in your ceiling with nowhere to go so mold and other buildup will occur making your house smell bad.
3. Is there a big wet stain on your ceiling or wall? Most people with leaks in their homes have noticed a stain or what looks like a wet spot on their ceiling. This is because of a leak or excess moisture and/or water damage
4. Bad water pressure- have you noticed poor water pressure in the sink or in the shower this might be because you have a leak. This is because the leak is misdirecting your water supply
5. Dripping sounds- if you hear a dripping sound but cant find where its coming from this might be a leak in your walls or ceiling its probably best if you call cape fear flooring before it's too late 
6. Soggy ceilings or spots- when water accumulates in your ceiling it has no place to go so. When water builds up  in the same area and over time it slowly breaks down your ceiling and may cause your ceiling to collapse or grow mold. Eww!